AFG-ET vs OMN-ET Dream11 Prediction, Emerging Teams Asia Cup Cup 2019, Match 6: Fantasy Cricket Tips, Playing XI, Pitch Report, Team and Weather Conditions
AFG-ET vs OMN-ET Dream11 Prediction for today's match: Oman faces Afghanistan in Match 6 of the Emerging Teams Asia Cup 2019. While Oman began their campaign with a superb chase against Sri Lanka, Afghanistan surrendered meekly against Pakistan on Thursday. Led by Samiullah Shenwari, Afghanistan is devoid of any experience which was their undoing against […]
AFG-ET vs OMN-ET Dream11 Prediction for today's match: Oman faces Afghanistan in Match 6 of the Emerging Teams Asia Cup 2019. While Oman began their campaign with a superb chase against Sri Lanka, Afghanistan surrendered meekly against Pakistan on Thursday. Led by Samiullah Shenwari, Afghanistan is devoid of any experience which was their undoing against Pakistan. Against a superior Oman side, they will need to bat out of their skins to get a result. Riding on Jatinder Singh and Fayyaz Butt's form, Oman will start as the favourites and will look to rack up another win in Cox's Bazar.
AFG-ET vs OMN-ET Dream11 Prediction, Emerging Teams Asia Cup Cup 2019, Match 6: Fantasy Cricket Tips, Playing XI, Pitch Report, Team and Weather Conditions
Match Details
Afghanistan ET vs Oman ET
November 16th, 8:30 AM IST
Sheikh Kamal International Cricket Stadium Academy Ground, Cox's Bazar
Pitch Report
The pitch is good for batting with Oman chasing 268 on Thursday. While the spinners will get ample help from the surface, the pacers should also be interested with the overlying conditions kept in mind. Batting first would be ideal upon winning the toss.
Weather Report
The weather is clear for this game with there being no chance of rain on Saturday. With the temperature hovering around 26 degrees, teams might prefer to bat first with humidity expected to play a part as well.
Injuries:
No injuries from either side.
Probable Playing XI
AFG-ET:
Not many changes are expected from Afghanistan although they did get off to a disappointing loss against Pakistan. Much is expected from Bahir Shah and Shahidullah Kamal with none of the batsmen able to convert starts. The experience of Shenwari will be crucial while all eyes will be upon Wafadar Momand, who leads the Afghan attack in this tournament.
Abdul Malik, Nasir Khan, Bahir Shah, Shahidullah Kamal, Samiullah Shenwari, Munir Ahmad, Waheedullah Shafaq, Azmatullah Omarzai, Abdul Wasi, Nijat Masood and Wafadar Momand
ALSO READ- FINCH, BAIRSTOW, GUPTILL LEADING THE WAY FOR OPENERS IN T20I
OMN-ET:
As for Oman, there isn't any reason for change with Jatinder Singh's superlative hundred getting them across the line against Sri Lanka. Filled with a lot of talent and experience, Oman will look for another good performance with Ilyas and Kaleem being crucial in the middle order. With Fayyaz Butt and Kaleemullah in decent form as well, Oman is firm favourites heading into this game.
Jatinder Singh, Mohammad Sanuth, Aqib Ilyas, Aamir Kaleem, Suraj Kumar, Mohammad Nadeem, Naseem Khushi, Sandeep Goud, Jay Odreda, Fayyaz Butt and Kaleemullah
Top Picks for AFG-ET vs OMN-ET Dream11 Lineup :
Jatinder Singh's hundred in the previous game warranties a place in the side. Along with the duo of Shahidullah Kamal and Aamir Kaleem, he is one of the must-have players in the fantasy team. Aqib Ilyas is one of Oman's best batsmen and can also contribute with the bat. Only one keeper in Suraj Kumar is picked while a lot rides on Shenwari's shoulders coming into this game. Afghanistan's youngest debutant, Wafadar Momand should pick a wicket or two as he is picked along with Kaleemullah for this exciting clash.
Captaincy Options for AFG-ET vs OMN-ET Dream11 Team:
1. Aamir Kaleem
2. Shahidullah Kamal
3. Aqib Ilyas
ALSO READ- THE UNDERAPPECIATED SIDE OF STEVE SMITH'S MAGIC WITH THE BAT
AFG-ET vs OMN-ET Dream11 Team & Fantasy Projections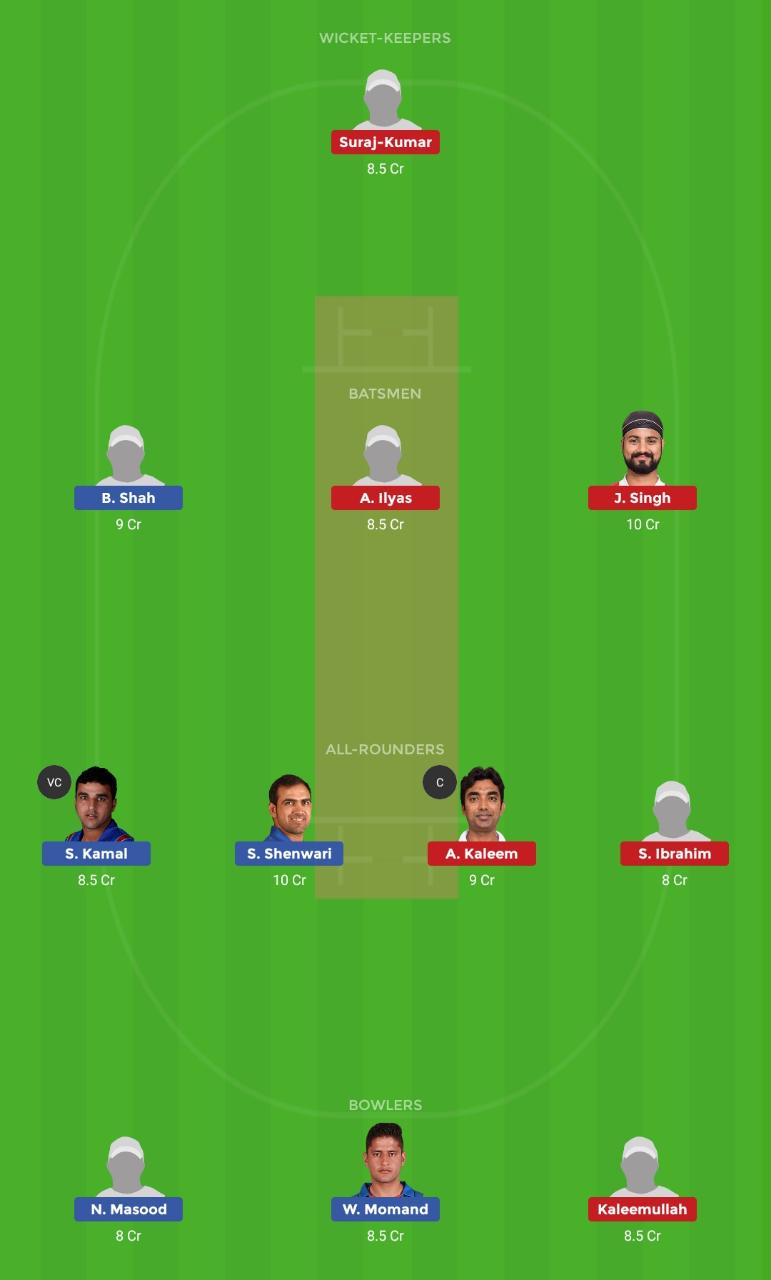 A Ilyas, Points: 70-72, Grade: A
S Kumar, Points: 44-46, Grade: A
B Shah, Points: 60-62, Grade: A
J Singh, Points: 30-32, Grade: B
S Shenwari, Points: 30-32, Grade: B
A Kaleem, Points: 100-102, Grade: A
M Sanuth, Points: 30-32, Grade: B
N Masood, Points: 40-42, Grade: A
S Kamal, Points: 94-96, Grade: A
W Momand, Points: 48-50, Grade: A
Kaleemullah, Points: 54-56, Grade: A
For more updates, follow us on Twitter @CricXtasy and on Telegram @CricXtasyD11